The founding of Earth Day was a springboard for organic food. Now, 50 years later, the trend continues with increasing demand for local, grass fed, ethically and sustainably raised products.
Earth Day History
Today, April 22, 2020, marks the 50th anniversary of Earth Day. In the previous decades leading up to the first Earth Day, industry around the country was oblivious to pollution and its effects on human and environmental health.
Earth Day 1970 received support from all areas of the population. Young and old, farmers and city dwellers, Republicans and Democrats, up to 20 million Americans all joined forces across the country to hold rallies in protest of pollution, pesticides, and wildlife extinction.
Earth Day Organic Agriculture
Earth Day is when organic agriculture really began to gain traction. Organics had been practiced for many years prior but the Earth Day movement gave new awareness to how our food is produced.
Since that time, demand for organic foods and grass fed meats has skyrocketed! With no sign of slowing down. Shoppers continue to seek out clean labels and local foods. Not only is it healthier and more nutritious, it also tastes better.
Be Earth Day Pro-active by growing your own organic food
With minimal space and time you can raise some of your own organic food. There are options for folks that live on a couple acres or a high rise apartment.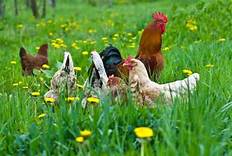 Pasture Raised Organic Chickens
This may not be an option for everyone however it is probably more feasible than you think. Chickens are quiet creatures that don't need acres and acres to raise. With small, portable pens you can have the best tasting chicken in the world in 8 weeks. Many people do this in their back yards.
If access to land is an issue, reach out to the rural community. There are thousands of abandoned farm yards that could benefit from small scale agriculture.
Raised bed gardening
Do you have a few square feet of yard space? Construct a small wood frame and fill with organic soil. This can be a summer salad garden or a great place to grow your own herbs and spices.
Container garden
If you are really limited on space try growing in containers. I admittedly am not an expert in this area but I know it can be done successfully. My elderly neighbor fill a 5 gallon pail with composted manure and planted a tomato start. He had all the tomatoes he wanted for a good part of the summer!
Do your part in support of Earth Day
I strongly encourage everyone to make an effort today to support a clean environment. Take a walk and pick up some litter. Plant a tree. Make a meal using local and organic foods.
Our country has made great strides in the past half century to protect the environment. Let's keep the momentum going and leave the Earth in better shape for our children and grandchildren!