Our 100% grass-fed beef sticks make the perfect healthy snack on the go and are a great keto snack too!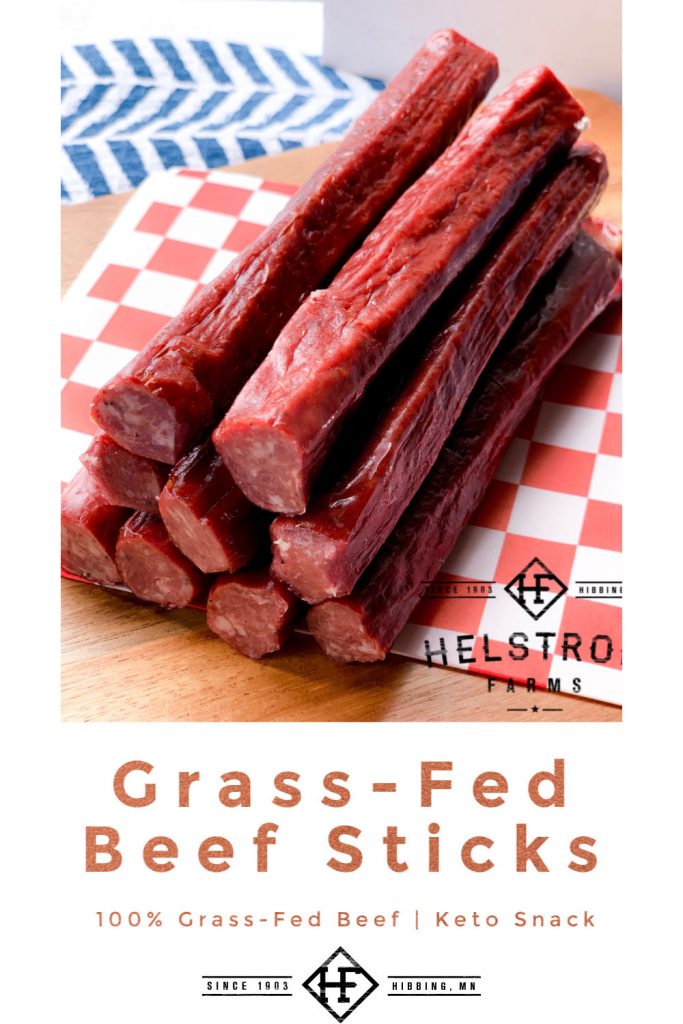 When it comes to healthy delicious snacking, it's almost always beef sticks that come to our minds. What if we told you that there is yet another healthier and leaner version of your favorite healthy snack?
Yes. 
It's grass fed healthy beef sticks. Grass fed beef sticks are the best beef sticks because they aren't just ketogenic friendly, but they also have high yum content.
That's because they are made from 100% organic and grass fed cows at Helstrom Farms. 
Helstrom Farms Grass Fed Beef 
At Helstrom Farms, we raise our cows in their natural habitat. As a family-run farm, we understand what quality food means for our family, especially our children. 
In the beginning, grass was the main diet for cows. However, as farming became a commercial practice, many farmers opted to switch to grain-based diet because it was a cheaper and convenient option. 
But decades later, it has become clear that grass-fed cows offer far more benefits than grain-fed cows. There's been lots of research to prove this. And so many of us are back to our feeding our cows their original diet. 
At Helstrom Farms, our cows are allowed to graze on grass from fields all year round, like their ancestors. So, the cows slaughtered in our farms aren't just grass-finished, but also 100% grass-fed. 
Furthermore, our cows are organic and GMO free. We don't inject hormones or antibiotics in our cows, because we believe in the humane treatment of our animals. 
Benefits of grass-fed beef sticks
Let's talk about the benefits of grass fed beef: 
Grass fed beef is healthier 
Grass fed cows are healthier than your grain fed cows. Research indicates that grass fed beef has a higher nutrient content. It is rich in Omega-3, beta-carotene, CLA and Vitamin B6. This means more nutrients in the same amount of meat.  
Fewer Calories
Despite the high nutritional value of grass fed beef, it contains fewer calories than grain fed beef. Grass fed beef is leaner than grain fed beef. Lower fat content naturally means fewer calories. One serving of grass fed beef contains only 140 calories. And because grass fed beef has a lower fat content, it lowers cholesterol levels too. 
Keto-Friendly
Grass fed beef is keto-friendly. Many keto nutritionists and coaches recommend switching to grass fed beef because of its high nutrient value including the high number of healthy fats. Grass fed beef contains 6 six times the amount of Omega-3 fatty acids as compared to grain fed beef. Since keto is a high-fat and medium protein diet, these grass fed beef sticks are ideal as a keto snack or appetizer. 
They taste amazing 
Our healthy beef sticks are labeled the best grass fed beef sticks by toddlers and children. They make a great healthy snack. And because they are so tasty, kids are always reaching out to them.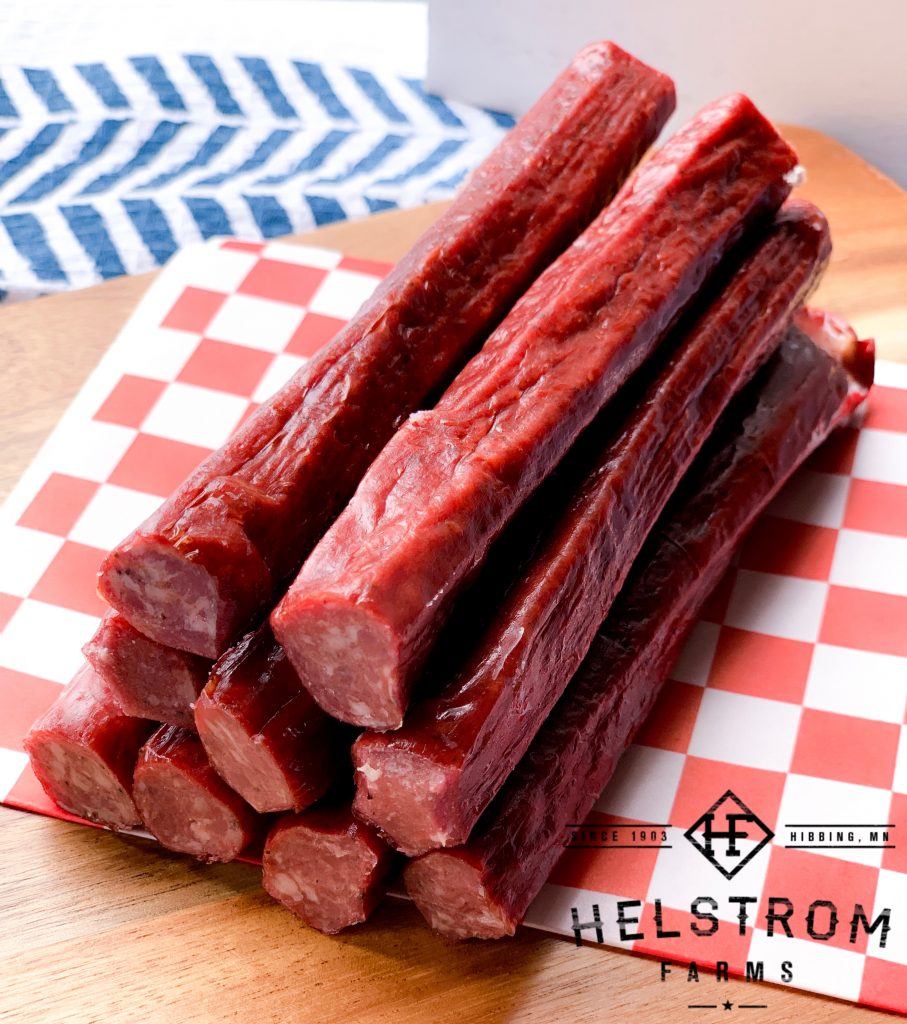 Health Benefits of Grass Fed Beef Sticks
Grass fed beef is healthier than your grain fed beef. When you consume grass fed beef, your health improves in the following ways:
Lowers risk of heart diseases:

Grass fed beef contains 500-800 mg of CLA in one serving. Research indicates that increased consumption of CLA in your diet lowers the risk of heart diseases. 

Lowers Risk of Cancer:

CLA is also a deterrent to developing cancer. This means that frequent consumption of grass fed beef can also lower the risk of cancer. 

Prevents the body from getting resistant to anti-biotics:

All of us know that overuse of antibiotics isn't good for our health. You'd be surprised to know that conventional beef sticks sold in the supermarket often contain traces of antibiotics. That's because grain fed cows are injected with antibiotics on a regular basis.  

Lowers risk of infection and food poisoning:

Studies also confirm that grass fed beef normally has far fewer traces of bacteria as compared to grain fed beef. The presence of bacteria in your food increases your risk of infections and food poisoning. 

Controls Blood Sugar Levels:

If you are consuming grass fed beef with a ketogenic diet, it can help control blood sugar levels. 
Grass Fed Beef  Snack Sticks From Helstrom Farms 
The beef sticks you get from our farms come from our organically raised, grass fed cows. All of our grass fed beef sticks are perfectly seasoned and sourced from our premium grass fed meat. 
Buy the best beef sticks from Helstrom Farms. You can also freeze these without affecting their quality for over a year.