Our handmade tallow candles use grass-fed tallow and are made in-house! See why tallow candles are the next big craze and should replace all the candles in your house.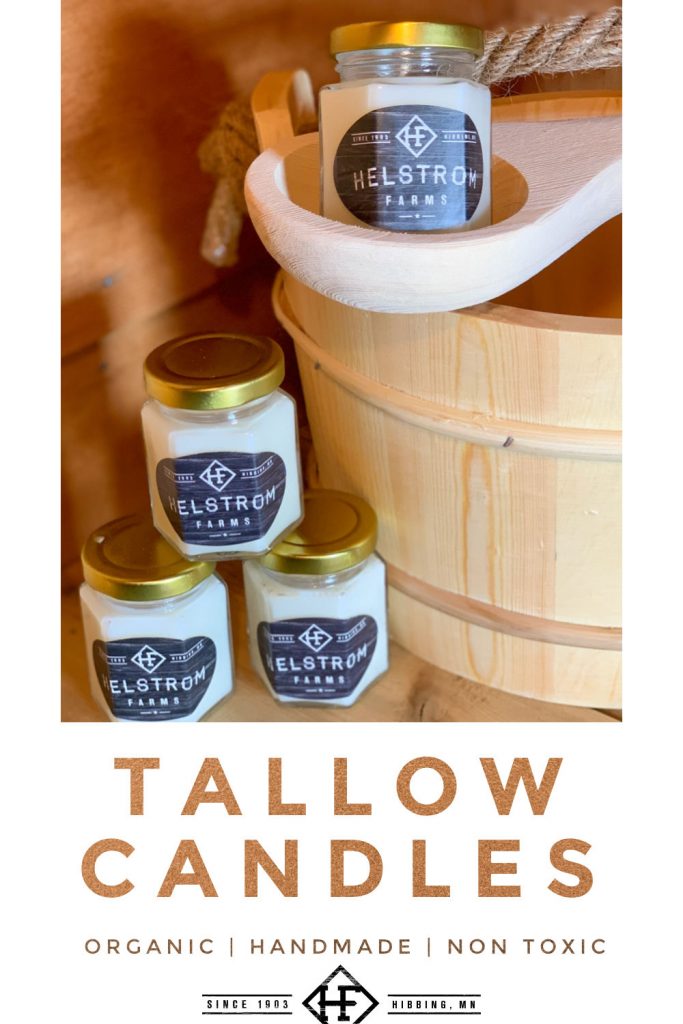 The concept of Tallow Candles isn't new. In fact, tallow candles were one of the first candles used in Roman times. And then they moved to paraffin candles because they smelled so much nicer. And we continued to use them til now.
But, in recent years, people are realizing that paraffin candles aren't really good for your health. Recent research by NCBI indicates that paraffin wax releases toxic compounds like acetone, benzene, and toluene into the air when burned. These toxins are carcinogenic and can lead to lung cancer and asthma. 
And now people are going back to Tallow Candles. 

What is a Tallow Candle?
Tallow Candles are candles made from tallow. Tallow is a hard, pale, saturated animal fat found mostly around an animal's kidneys. It can come from any animal except pork. Mostly we get tallow from cows and sheep fat. 
The tallow candles at Helstrom Farms are made from our organically raised grass-fed cows. Helstrom Farms is a family-run farm in Hibbing, Minnesota. We believe in organic, sustainable farming. That's why we raise grass fed, organic, GMO-free, hormone-free cows. And it is from these same cows that we get our tallow for the tallow candles.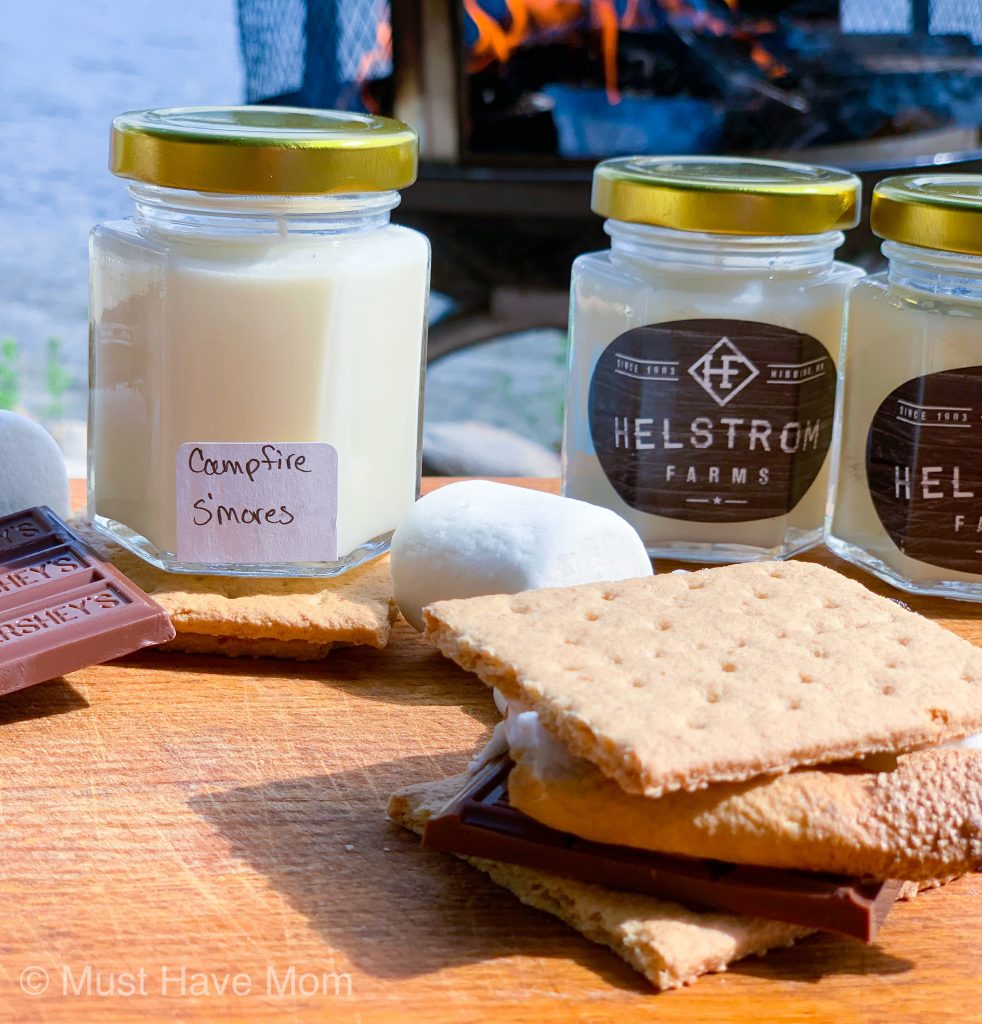 Benefits of Tallow Candles 
Tallow candles replaced plant-based wax in the Roman times. However, the earlier Tallow candle had a strong odor, and so they were replaced with beeswax. And then later paraffin wax. 
The recent years have seen some development in candle making. People are now shifting back to tallow candles because of these very obvious benefits of tallow candle which include: 
Non-toxic
The shift from commercially sold paraffin candles to tallow candles has begun mainly after users realize the harmful effects of paraffin wax. 
Most of the candles available in the market are paraffin-based. Paraffin is a waste product created from the production of petroleum and coal. This paraffin emits carcinogens and toxic fumes in the air. 
Long-term exposure to these fumes can affect your quality of life. So, if you are someone who burns candles frequently, it could mean health risks for you and your family. 
The funny thing is, candle manufacturers aren't required to list their ingredients on the label so they get away with using these toxic materials.  
Unlike the paraffin-based candles in the market, tallow candles don't produce fumes that could contribute to asthma and other lung irritations. 
Our tallow candles are made from organic beef tallow. They are 100% organic and natural. Because these candles are non-toxic, they are healthy for the environment and people who live in it. 
Environmental-Friendly 
The candles normally available in the market right now produce soot when burned. This adds to air pollution in our environment. Tallow candles don't contain toxic materials. They burn clean. This means burning them doesn't cause any air pollution. 
Sustainable 
Tallow candles are made from discarded fat from animals. By turning this fat into candles, we are using something that would otherwise be thrown away and increase pollution levels. 
This means that every time you buy a tallow candle, you do a small something for the environment you live in.
Slow-burning candles 
Tallow candles are slow-burning candles. They often usually do not burn to the end. Since they come in a jar, the tallow candles at Helstrom Farms can be used for weeks.
Last Longer 
You can use and store tallow candles for years. From our experience, we know they won't turn rancid and hold their original texture even after a year or two. Even if you store them in the kitchen cupboard, they won't develop mold. 
Smell Nice 
Originally, people shifted to paraffin-based candles because they smelled nicer than organic tallow candles. 
Tallow candles had this meaty smell that didn't make them aesthetically pleasing in a home. But not anymore. 
Most tallow candles nowadays, including ours, go through a robust cleaning process. Also in the end, we infused our tallow candles with natural scents to give off a nice fragrance in your home. 
Where to Buy Scented Tallow Candles?
Ready to switch to healthy, non-toxic candles? 
Try Helstrom Farms' Tallow Candles. These are handmade tallow candles made with beef tallow from our organically raised cows. Our handmade Tallow Candles are:
100% organic

Burn clean

Scented

Non-toxic 

Sustainable 
Get your Homemade Tallow Candles from Helstrom Farms. These make great gifts too with their beautiful glass jar and lid. Check out our available scents!